Book Your Family Adventure Today!
The Charter Boat Sea Winder offers several different types of fishing trips in Destin, Florida.
Whether you want a half day charter from 4-6 hours, a full day experience of hands on battle 8-14 hours, or an extended voyage to go after trophy fish 18-48 hours, we specialize in customizing your time on the water to pursue whatever you heart desires!
A

ll of our trips are considered deep sea fishing, customized to meet different experience levels of our customers from beginners to savoy anglers. We offer a wide variety of fishing trips. Charters range from 4 to 48 hours and include bottom fishing, nearshore and offshore trolling, sight fishing for cobia, shark, and swordfishing trips.
We can mix it up! Fish with us using various techniques on your charter from trolling a "spread" to engaging everyone simultaneously while bottom fishing. We customize each and every trip to doing what you want to do!
TRIP INFORMATION
Aboard the Sea Winder, trips fall into three categories based on their length.
Half Day:

These trips are either 4,5, or 6 hours. They are designed for the novice fisherman, families with young children and groups just pushed for time. With morning and afternoon departures available, these trips are easy to fit into any hectic vacation schedule.

3/4 Day:

Trips are 8-10 hours in length. These trips open up the possibilities for the more avid fisherman to "get out there" and catch a really nice mess of fish.

All Day:

Leave early and return late, these 12, 14, or 16 hour trips are designed for the fish enthusiast. Typically involving deep water bottom fishing and offshore trolling. Anything … yes, anything can happen.
T

he outstanding crew on the Charter Boat Sea Winder specializes in taking good care of families and children. They are our future anglers and we have a "can do" attitude when it comes to kids catching fish. We all grew up on fishing boats and know the joy of having someone teaching you how to fish with patience and a smile.
Family fishing trips make up the majority of our charters.  We focus on creating the best of memories from everyone's experience.  We have a wide variety of tackle specifically tailored for optimal functionality with all anglers, from children to adults.
A perfectionist in all areas, Captain Chris takes great care in custom building his own rods, a rare practice among fisherman today.  Captain Chris knows how to best pair tackle and each specific angler, cultivating the ultimate fishing experience.
A

day of corporate fishing fun?  Let us handle the planning!  We have relationships with several local vendors and are happy to set up catering for your team.  Impress your whole group with a first-class Destin charter experience.
Let us set up your next Destin fishing trip for your company or client salt water excursion. Whether it's your highly talented sales team, your A+ customers or clients, an executive outing, or just the whole company going on a fun day of deep sea fishing in Destin, FL.
Email receipts for company check/credit card payments

Flexible scheduling around your conferences and meetings

Complimentary set-up of catering options, including box lunches, party trays, breakfast, drinks, etc.

Complimentary scheduling coordination if multiple boats are required (for large groups). We will work with you to ensure each team member has a spot on a fellow premier charter boat leaving from our same dock.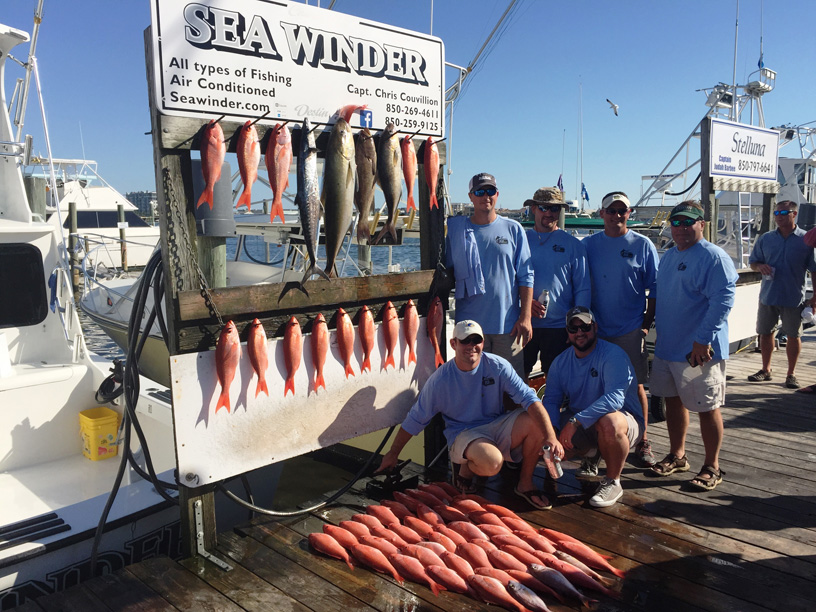 For the saltiest of anglers pursuing the monsters of the deep! Go on safari for swordfish, marlins, big groupers, snappers, amberjacks, wahoo, and mahi mahi! The timid need not apply.
Captain Chris always works with the customers to develop a plan for the day based on their wishes, his recommendations, and the length of the trip. We really want everyone to enjoy their day aboard the Sea Winder.